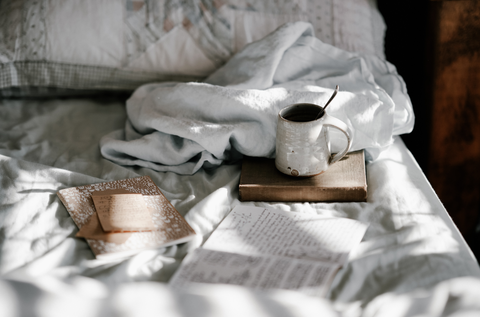 Morning Rituals To Stay Calm This Holiday Season
As if social distancing and staying indoors hasn't felt challenging already, the holiday's certainly aren't making it any easier. It feels utterly disheartening to wake up each morning to more bad news, especially when the holiday season usually feels like the happiest time of year.
If you're feeling off during this time, we're right there with you. Reset your holiday rituals with us by practicing a few healthy habits each morning to remain calm. Let's get through this year together, coming out of it feeling more in tune with ourselves than ever before.
 Set a Daily Intention
The best way we can honor ourselves is to set goals and reach them, even when those goals seem far fetched in the moment. In order to do so, it's imperative that we set daily intentions to make sure we're continuing down the right path for whatever it is that we want to achieve.
Grab your journal and write down several intentions for your day. If you get stumped, read up on our previous blog post, Intention Setting 101, and we'll guide you through this first morning ritual.
 Light Your Wick
After setting an intention, light your candle to fill the room with a tranquil vibe and uplifting scent. As you might have already noticed, scent has a powerful pull over our mood and emotions. And despite common belief, it's not just a myth. Research shows that scents not only have an effect on our psychological conditions, but natural scents, in particular, calm us down and evoke happy feelings.  
Lighting this candle each morning serves as your gentle reminder to relax as you breathe in the soothing blend of peppermint, eucalyptus, and rosemary. Blessed was created to help you see the good amongst the turmoil, filling your heart with gratitude and peace. 
The objective of Healer is embedded in its name, to heal your soul and reconnect you with the natural world. With notes of sandalwood, bergamot, and creamy vanilla, burning Healer will help you feel grounded at uncertain times.
The aroma of lemon blossom will cleanse your body from within and give you an energy boost to begin your day. Sun was created with the intention to radiate good vibes throughout your home with the help of citrus notes, otherwise known as the scent to boost your serotonin.
Celebrate Your Wins
If you've been in a negative headspace for the past few months, you're certainly not the only one. A rough few days, let alone a rough couple of months, will put anyone in a bad mood. Despite everything going on in the world, choose to celebrate your wins, no matter how tiny they seem.
It's too easy to fall into the trap of self-doubt when you're focusing on everything that went wrong. Forget what could have been and reflect on what you did right this year. 
Take it Slow 
As challenging as it is to work from home, exercise from home, and essentially do everything in this one space, remember that it's an opportunity for you to slow down. Take this extra time to be present with yourself and check-in with how you're feeling. Existing, making it through the year, and continuing to honor your needs are more than enough reasons to celebrate this holiday season.