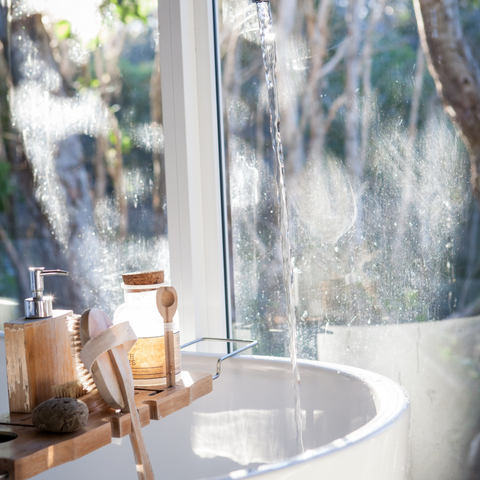 4 Easy Ways To Make Shower & Bath Time Sacred
Often times a busy schedule can deter you from slowing down and enjoying little things in life. We have to cleanse ourselves in the shower or bath, though… Why not be a little extra and make the most of it? Below I've put together a few suggestions that will bring your inner goddess out during bath time:
Clean Space – A clean, uncluttered space is the ultimate foundation of a clear mind. Take the time to recycle empty shower gel bottles or anything that no longer serves you in your bathroom space. Wipe off the bathroom countertops and sink, sweep the floor, and make sure everything is sparkling before you step into the tub.
Palo Santo – Palo Santo is an ancient practice used to remove negative energy and invite good vibes into your space. Light Palo Santo before you shower to clear the space. See our Smudging with White Sage post for details on how to smudge your house. As a bonus, Palo Santo has an amazing woodsy sweet scent. It's one of my favorite smells, ever.
Candles – It's not a mood if a candle isn't involved! You can also use diffused essential oils to create a relaxing, goddess-worthy energy. Lighting candles creates a distinct ceremonial vibe when added to bath time.
Plants – Think eucalyptus, dry roses, and lavender. There's something about the rich color of plants that's sure to enhance your relaxation. I love to add roses or lavender around the bathtub, or hang eucalyptus from the shower head for a refreshing aroma while I shower.
Let me know how these tips work for you! Comment below and me know how you've turned your bath time into something sacred.
From my sacred space to yours,