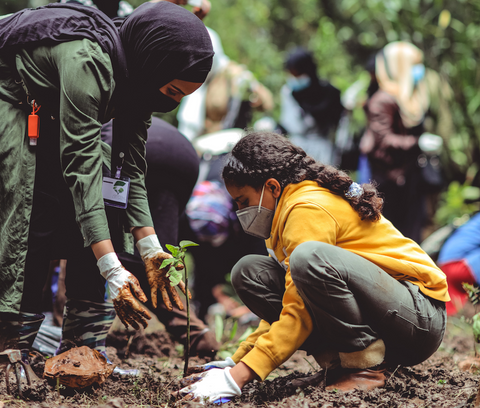 Satya + Sage's Sustainability Practices and Promises
Although we're a candle brand, we're also consumers ourselves. And if there's two things we personally always look for in brands, it's admirable brand values that resonate and effective sustainability actions. If the individual consumer can take the initiative to reduce their own carbon footprint, the brands they know and love should be doing the same. 
Making eco-friendly practices the new industry standard is something that we feel passionate about as a brand, and know from firsthand experience that wasteful practices don't always equate to quality. So that you can always feel good about shopping with Satya + Sage, let's talk about each and every one of our sustainability endeavors!
Candle Refill Program
When we noticed there was an opportunity to reduce our waste without affecting the quality of our candles, we took it. Our candle refill program changes the way we shop by offering an option to refill instead of repurchase. By doing this, you can reduce waste from shipping, packaging, and the candle component itself, all while receiving a brand new candle to burn!
Reduce The Waste, Skip The Box
Aside from the product industry, the packaging that protects it during shipping contributes to massive amounts of landfill waste. Although the shipping box and the protective materials keep everything secure, we have alternative ways to secure items, eliminating the need for unnecessary waste. If you prefer to skip the box, you can switch to a beautiful and minimal candle jar cover that offers the same protection, only with less waste!
Eco-Friendly Packaging
Since we can't completely take out our packaging altogether, we use FSC certified packaging for our wrapping materials and labels. The FSC protects the world's forests, offering businesses an opportunity to reduce their environmental impact by making a simple change to their packaging. 
100% Recyclable Components
Candle vessels are usually recyclable since they're made from glass, but it's the plastic lid that becomes an issue. We use plastic-free metal lids for all of our candles, making each and every one fully recyclable. Metal lids also make it easier to repurpose your jars after cleaning out the candle wax and turn them into mini storage containers, jewelry holders, or planters!
Every Purchase Plants a Tree
Beyond our practices behind the scenes, we found another way that allows us to include you in our sustainability efforts. If you didn't know already, every purchase you make through our website plants one tree with the organization, One Tree Planted. Working with an organization that helps us, as a business, as well as our customers, plant trees to offset carbon emissions is a dream come true!